DIN 8165 (FV) / 8167 (M) Chain
DIN 8165 (FV) / 8167 (M) chain
The double drag link chains according to DIN are available in a circlip, a splitpin, or a revited version.
The steel scrapers can be either bent or welded. It is also possible to attach plastic flights. Chains according to DIN 8165 (FV) and DIN 8167 (M) are also available including small and big rollers.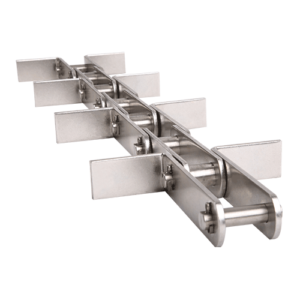 Available in the following sizes (pitch): 40 – 50 – 63 – 80 – 100 – 125 – 135 -150 – 160 – 200 – 250 mm.

Other sizes and materials are available on request.
Pins are available various executions and in materials:
16MnCr5, 42CrMo4i, 1.4034i, 1.4122i, 1.4462, 1.4713. Other materials on request.
Samples of scraper chains
View our calculations for Conveyor Chains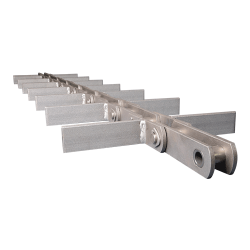 More than Wearing Parts
We Deliver Solutions!