Our plastic flights are made of wear-resistant nylon and are flexible. As the chain is carried by the plastic flights, it eliminates the steel-on-steel contact, this will lead to saving energy and a considerable noise reduction. There are various kinds of flights available: Nylon, Nylon with Glassfiber reinforcement, Zytel and FDA-quality.
This product is also commonly referred to as or can be compared to: heat resistant flights, reïnforeced flights, bolded plastic flights.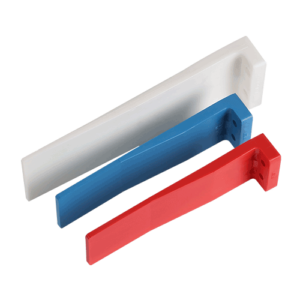 * Also available in heat-restistant zytel
** Also available in durable and stiffer fiberglass version
*** Also available in heat-resistant zytel or FDA Quality
Benefits of plastic flights
Reduce noice considerably,
flexible / bendable under high pressure
low frictional resistance, saving up to 20% of the energy,
less costly; less wear and tear of the bottom plate and the chain,
eliminates the need for guiding and wearing strips,
very quickly and easily assembled or replaced.
View our calculations for Conveyor Chains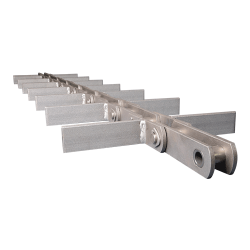 More than Wearing Parts
We Deliver Solutions!