Starco elevator buckets made of pressed steel (mild or stainless steel) and plastic (HDPE or Nylon) are suitable for a variety of different products. The relatively low rear height of the buckets allows a considerable bucket density (buckets per meter). The low rear height and the relatively large projection guarantee that the Starco bucket easily ejects its product even at high belt speeds. This makes it possible to attain a higher capacity.
This product is also commonly referred to as or can be compared to: Claus, System C, EuroJet or high capacity bucket.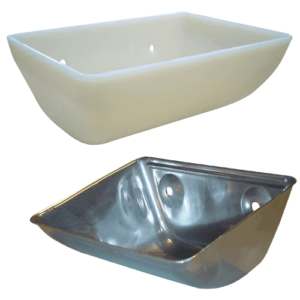 Z2 = gross volume in liters, Z3 = net volume in liters.
Claus elevator buckets are also available in thicknesses (t) of 2.5 and 3.0 mm.
Special designs with differing hole spacing are possible in some cases.
VAV supplies plastic Starco elevator buckets made of PEHD and nylon ex stock. Besides, PU and zytel are also available. Plastic elevator buckets lend themselves particularly well to the transport of wet, sticky or fatty products. Another advantage is that plastic elevator buckets do not strike a spark even if the belt is misaligned.
Z2 = gross volume in liters, Z3 = net volume in liters.
View our calculations for Elevator Parts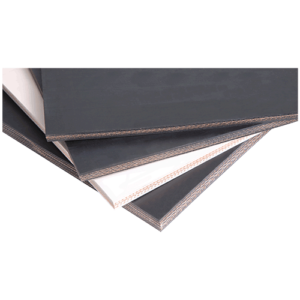 More than Wearing Parts
We Deliver Solutions!